ABSOLUTELY FABULOUS...AT 60
"SWEETIE! DAHLING"
"DAHLING. SWEETIE."
MWAH. MWAH.
"HAPPY BIRTHDAY PATS. I MEAN EDDIE. HANG ON, WHICH ONE DO YOU WANT TO BE?"
"OH I'M EDINA MONSOON DAHLING. TODAY AND EVERY DAY. SWEETIE. DAHLING. SWEETIE."
It's my birthday and I'm celebrating a big one.
The big 6-0.
I know, you'd never guess. Not a wrinkle in sight. Not from behind these killer A-Morir happy-birthday-to-me bedazzled shades anyway.
God it feels good to say it out loud.
All this time, masquerading as someone between the ages of 25-34 years old. The only age bracket that matters to marketeers. The same age range I've been fraternizing with for the same number of years, who are none the wiser thanks to my twice daily Clarins Double Serum regime and outrageously immature sense of humor.
I'M SIXTY YEARS OLD. Iris and Baddiewinkle are my age-embracing-style-over-fashion soul sisters. It seems you can can be absolutely fabulous AND over 35. Thank you for bringing realness and acceptance back to ageing. The youth-is-everything agenda was getting out of control. I thought I was going to have to throw another 30th!
Absolutely Fabulous friend Rachel (Pats for today) has flown in to town for the occasion.
Sweetie. Dahling. She wouldn't miss it.
The party planners (Sherpa and Pats) have decked out the rented event space (my apartment) with scarlet balloons, streamers and tinsel curtains.
I'm a Barbie girl and this is my world. Although my ensemble is more late-80s-early-90s-Prom-Queen-granny-wears-vintage-Moschino-with-her-finest-ISLYNYC-family-heirlooms.
However I suppose I've just turned 60 and could feasibly be someone's granny at this point, so it's working for me.
DJs Wanda & Rhonda (couldn't leave Rhonda out) are headlining the party bill. Wanda's been working really hard on her DJ skills so I had to be a supportive dog mother and allow her express herself through her art. But I will tell you. DJ Snakeplant was VERY disappointed…
Champagne dahling?
LET THE GAMES BEGIN.
Drinking Moet Mimosas (with Tropicana dahling). Couldn't get Bolly to deliver a chilled fridge full as a birthday present. Not even a poxy magnum - something about me being a nobody??
"Nobody! Nobody?! I'll give you nobody. Have they seen my Instagram?
Pats! Pats?! Can you believe it? Me a nobody?!"
Pats nods. Curling her lip in agreement while simultaneously guzzling champagne and smoking five cigarettes. MY HERO.
More Moet!
Wanda and Rhonda are BLOWING UP the place with CHOONS. It's Spice Girls heaven. They know me so well.
SPICE UP YOUR LIFE.
WANNBE.
SAY YOU'LL BE THERE.
WHO DO YOU THINK YOU ARE?
NAKED.
LOVE THING.
Baby Bunton was a great singer in her day.
Drinking. Dancing. Singing. Sweetie. Dahling. Moet. Mimosa. Moet. Moet. Moet.
Feeling a tad on the tipsier side of tipsy Wanda & Rhonda slow things down…for the slow set.
2 Become 1
Too Much.
Viva Forever.
Mama.
Brings me right back to the edge of the dance floor of infamous Carrickmacross niteclub The Oasis (generally pronounced locally as d'Oasis) in the late 90s wondering if I'll be asked to dance by a youngfella which essentially meant getting the shift.
But that's a whole other story. God be with the days.
Time to cut the cake!!!
Happy Birthday To Me. Happy Birthday to me. Happy Birthday Dear Gem - Eddie…Happy Birthday to me!
Still sexy at 60. Although you'd never know. My age that is.
I blow out the candles in one breath. Feeling totes Ab Fab dahling.
Sherpa captures it all on film for the family album, posterity and possibly my memoirs. But mostly to try and sell the exclusive pics to HELLO magazine for an exorbitant amount of money. That's what happens when you hit the big time and I'm pretty sure I'm almost there.
Pats tells me that smearing birthday cake on your face is the latest craze amongst the Hollywood A-list in maintaining youthful looking skin and that Madonna and Gwyneth are HUGE fans. Well in that case…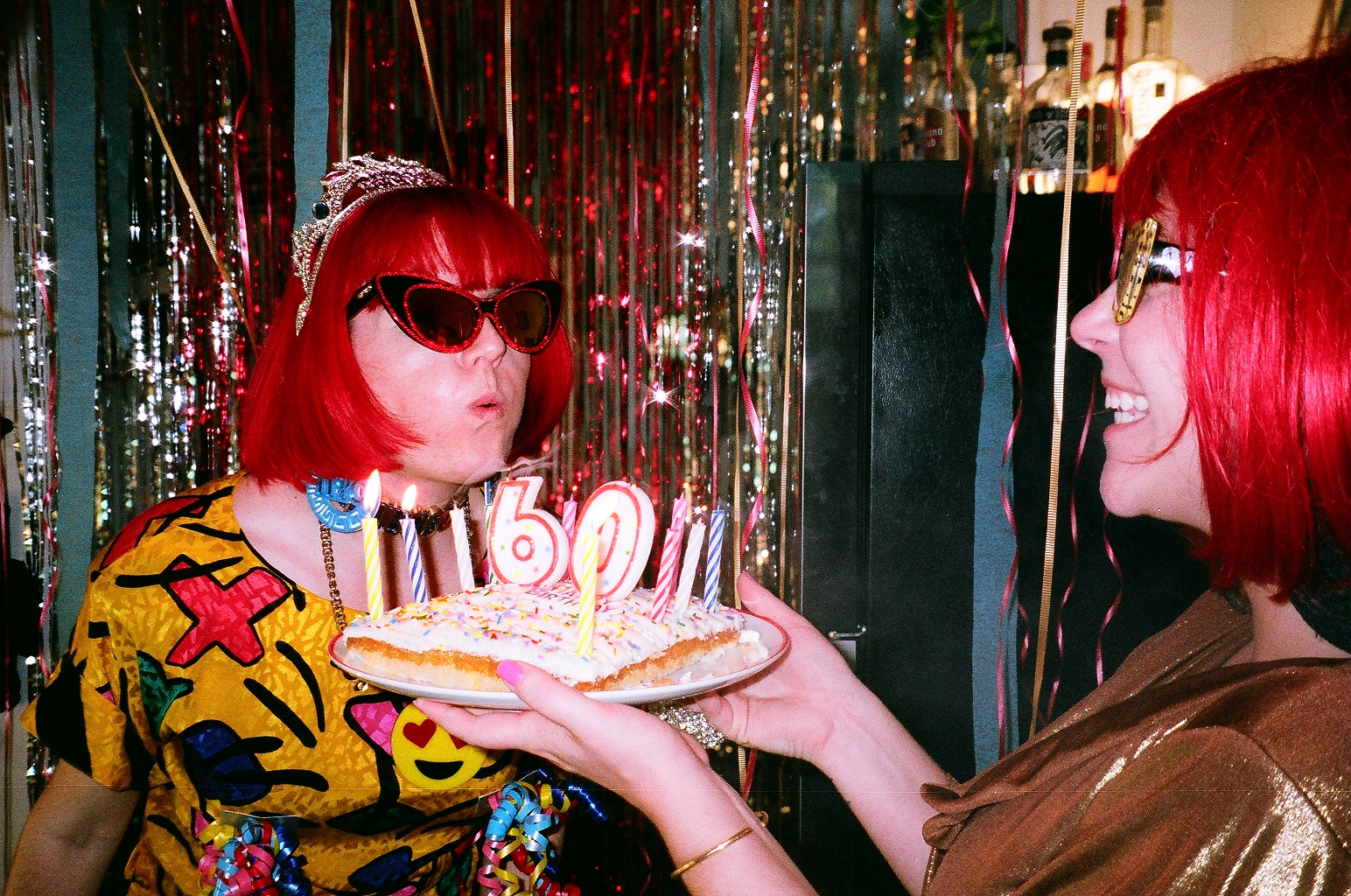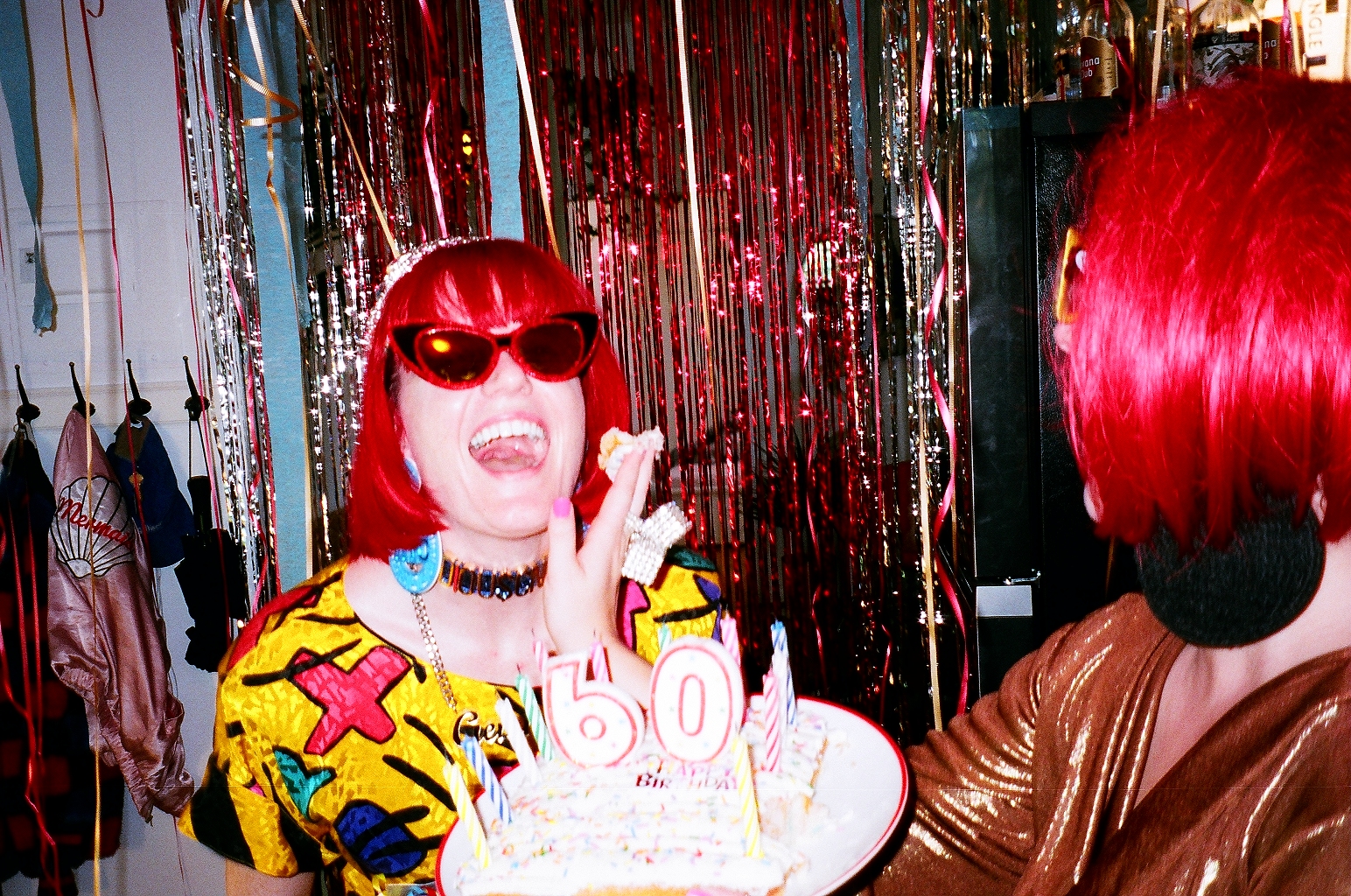 Just to clarify. We also DEVOUR the cake.
P - R - E - S - E - N - T - S - !
Scratchies all the way from Ireland from Granny Sherlock and five euro the richer! Thank you Granny for the first deposit in my retirement fund.
Moet for days. Cards. Crowns. Cake. Cocktail umbrellas. Cadbury's Caramel (from Ireland though, wouldn't thank you for the manky American stuff). I'm feeling truly loved. Thank you friends and family for your most thoughtful gifts. They will all be worn. Eaten. Or used in my new beauty regime.
Back to the Moet. This party is pretty lit for a 60th. Let's take it up to the rooftop and watch the sunrise.
We're partying Ab Fab style D - A - H - L - I - N - G.
Leading the charge up the ladder to the roof I'm blinded by the brilliance of the light when I open the trapfoor. WOW. We are so hardcore, we've partied through the night without noticing and missed the sunrise! CRAZY!
Baddiewinkle do you hear that? When are we hanging out??
Sherpa advises that it's 4pm and about 2 hours since the party started. Time flies when you're having fun. But not that quickly.
I suppose I'm looking way too together to be on a rollover but it could just be the cake (smearing). It's really working!
As we admire the panoramic views of Bushwick and Manhattan (oh hi Empire State Building), a freak shower of scarlet sequins rains down upon us from the heavens. Did not see that coming on the weather app. Pats and Eddie squeal with delight. How ABSOLUTELY FABULOUS.
They say life begins at 60 and I'm starting to believe it.
GLOSSARY OF TERMS (in order of appearance)
Clarins Double Serum - Miracle age reversing serum that will change your life if you don't already use it.
Iris - As Iris Apfel. 96 year old entrepreneur. Style Icon. Personal hero.
Baddiewinkle - Helen Ruth Elam Van Winkle, catapulted to fashion icon status at the tender age of 85 thanks to the power of instagram. Sequin wearing, fun loving, kindred style spirit.
Absolutely Fabulous - Hysterical 90s BBC comedy show created by, written by and starring the comedy genius Jennifer Saunders. She plays booze and Class A fiend fashion PR mogul (or fauxgul?) Edina Monsoon (Eddie) who's accompanied at all times by partner in crime Patsy Stone (Patsy or Pats) played by Joanna Lumley. Most commonly referred to as 'Ab Fab' by fans and those with a knowledge of 90s pop culture. If you've never watched it, you're welcome.
Sweetie. Dahling. - The most popular words uttered by Eddie and Patsy throughout the entirety of the series. Sometimes in reverse order. Dahling. Sweetie. Never get old.
Granny - Irish English for Grandma. Usually your mother's mother. Usually.
DJ Snakeplant - Superstar DJ and guest of The Scarlet Bob at the exclusive Bushwick Resort at the beginning of summer. He's just spent the summer in Ibiza and had promised he'd come back to New York for a visit. This was the perfect reunion opportunity but, my dog babies must come first. Read the full story here.
Baby Bunton - Ab Fab for Emma Bunton, better known as Baby Spice. Emma Bunton in her post Spice Girls days becomes a client of Edina Monsoon in the later episodes of Absolutely Fabulous (circa 2003). Edina hysterically never remembers her proper name and Baby Bunton is as close as things get.
Slow Set - A phenomenon specific to Irish nightclubs or 'discos' in the 90s, the slow set was an integral part of a night out where the DJ (following a couple of hours' of spinning popular chart music - anything from Nirvana, Pearl Jam, Guns N Roses to SNAP, 2 Unlimited, Robert Miles, Madonna and of course The Spice Girls) - he (because it was always a he) would announce he was 'gonna slow things down' and there would be a mass exodus from the dance floor as a slow song came on (Guns N Roses Don't Cry and Meatloaf's 'I would do anything for love' are typical examples). People who were already in couples or who had been 'set up' before the disco partnered up for 'slow dancing' which really meant, moving slowly and awkwardly with arms wrapped around one another (bad 'dancing') with the ultimate goal of getting the shift (see below).
The Oasis - Famed 80s & 90s Niteclub (the first nightclub in Ireland to spell it this way, which immediately elevated it to a status more intensely cooler than all others in the country), it was the quintessential Irish nightclub experience. Luckily for me, it was a 7 minute drive from my house and I used to go with or without permission on a regular basis. Mostly when I was underage. To get a more complete sense of the experience, this post on irishography.ie sums it up brilliantly!
Getting the shift - Irish English for 'making out'. French kissing. Sticking your tongue down someone else's throat and vice versa. In the context of the 90s Irish dance floor, highly unromantic but importantly, could increase or decrease one's social standing, depending on who one was shifting.
Scratchies - Irish English for scratch cards of the gambling variety.
Manky - Irish English for gross.
Sherpa - friend / helper of friends in need / explorer / human trip advisor / life coach / photographer / performer / estate agent / set designer / aspiring cocktail maker
Rollover - Irish English for when you've been out on a BIG night out (i.e. you've consumed much alcohol and what have you). You ride out the night like a champion, the heart and soul of the party and keep it going the next day. YEEEEEEEOOOOOOOO. Usually referred to as being on a rollover - "We're on a rollover" - preferably experienced with friends because no one else is gonna understand the extent of your pain when you have to wake up for work on Monday and behave like a normal human being.
WEARING
THE SCARLET BOB
Vintage Moschino Graphic Print Dress: Blue Velvet Vintage, Texas via Sherpa / Black Cat Eye Bedazzled Shades: A-MORIR / Happy Birthday Tiara & Party Nipple Tassels: Party City / Glitter Choker: Discount Universe / Gemma Necklace: Haus of Dizzy / Earrings, Gold Cuff & Rings: ISLYNYC / Fluffy Boudoir Mistress Sandals & Fishnet Socks: Topshop
THE OTHER SCARLET BOB
Gold Lamé Dress: Halston Heritage / Cat Eye Glasses: Lindsay Lowe / Pink Velvet Ankle Boots: Office / Giant Gold Sequin Disc Earrings: House of La Rue / Scarlet Bob Wig: C/O St. Marks
Gemma Sherlock